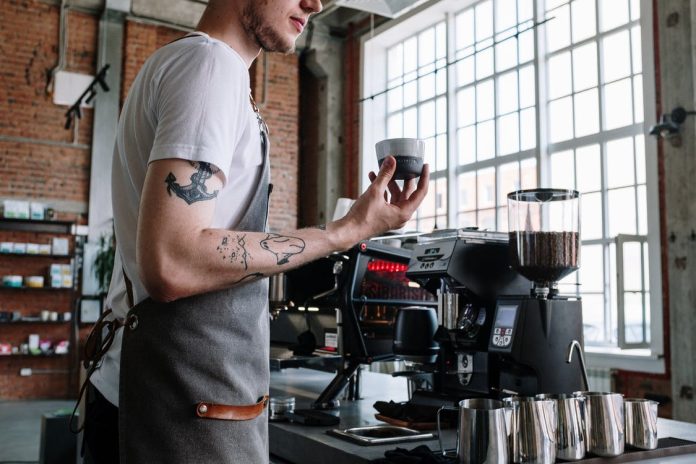 Paying for a college degree is hard. That's not to mention car insurance, meals, and other everyday expenses that pile up. Every college student can agree that making money on top of coursework seems impossible. On-campus jobs can be an excellent start!  
Often, you can get a job on campus and save some of the money you would have been spending on car insurance each month. An on-campus job provided by your school also means more opportunities to make important relationships with your peers while you make money. Here are 5 on-campus jobs that can help you make money during your semester:
1. Barista
Anyone looking to make new friends or get some free coffee should apply to be a barista. Most schools have an on-campus coffee shop that students frequent for a caffeine fix or study break.
 If you are more outgoing, you will thrive in this on-campus job. One of the life sources for college students is coffee, making the barista position a winner for anyone who wants to meet as many new faces as possible. Also, if you're a sucker for the smell of a good brew, what better way than to spend your work hours in the aroma of freshly ground coffee beans?
2. Library Assistant 
This one is perfect for the more introverted person, or if you are just looking for a job where you can have time to do homework while getting paid. Sometimes there is nothing better than stepping into the quiet environment of a library amid all the chaos of college. 
Another benefit to this position is getting the first pick of all the books you might need for your classes. Pair that with a consistent paycheck, and these benefits are hard to pass!
3. IT Assistant
If you have been handy with computers and technology in your life or would like to learn a little more about this area, then this on-campus job may be very appealing. There is always a high demand for IT assistance in the classroom or in facilities around campus. 
This position might work very well if you want to be] paid hourly and have a little more time on your hands. It seems as though tech assistance is always busy. Another benefit to this position is constantly stretching the muscle of problem-solving. If you want to grow in facing whatever is in front of you, then this would be a good daily practice tool while getting paid to do it. 
4. Teacher's Assistant (TA)
This on-campus job is good for you if you are possibly looking to go into the education field and want some practice in front of a classroom. Start thinking of ideas to help you along this process. Ask the professor you are assisting in picking up more duties that could get you more experience in that field. Most professors look for college students to show some interest and zeal. This would impress them to give you more experience and possibly rack up the hourly paycheck as well. 
The best part about on-campus jobs is the connection to your schooling. This means you can have more time and be more creative with what you get out of your position. Because you are getting an education at that institution, the professors you work for may be more inclined to accommodate you. 
5. Tour Guide
Tour guides play an important role at colleges and universities. They are the faces that make or break an incoming student's decision to go to your specific school. This job helps you hone your people skills because you always have practice welcoming people with a smile and assistance. 
You hone your memory by reciting facts about the school and its individual facilities every time you host a group tour. Outgoing people thrive in this position because it serves as a refreshing break outside, away from mundane schoolwork. 
If you've already graduated then check out our article 5 Ways to Hack Your School Debt!