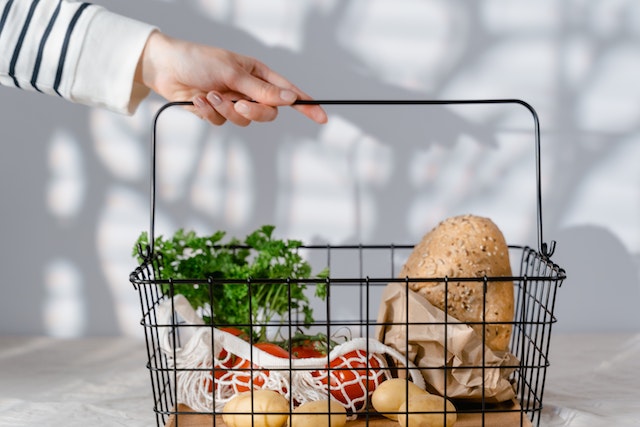 Groceries are one of the most significant expenses in a person's life. Wouldn't it be amazing to just get groceries for free?
One grocery trip can take out your entire paycheck. That's a terrifying reality, especially if you're responsible for feeding other people. 
It's difficult enough to deal with monthly bills, but then you have to factor in the cost of eating. There's a lot of fluctuation when it comes to grocery prices, so you never really know how much you're going to have to spend. That's enough to drive you insane!
If you're struggling with grocery costs, there's hope for you. Free and discounted groceries are not as far as you might think! 
Government Assistance 
There are a few ways to get help with groceries, but the most efficient tool is government assistance. The government understands that paying for basic needs can be extremely difficult at points in life. This is why there are programs to help with a variety of financial issues.
You can apply for many of these programs, depending on what needs you have. Food, family care, unemployment help, medical care, housing, and education aid are all available for those in need.
There are a handful of government assistance programs for food assistance specifically. Check out the various types of help you can apply for to see if you qualify for any of them!
Immediate Food Assistance
Before you dive into any specific programs, it's important to know there are options for immediate help. If you're in trouble and need immediate help with food, learn the resources to use.
First of all, calling the number 211 connects you to community organizations and agencies that will find you food. This is in an emergency situation, so keep this number in mind if you can't find your next meal.
Second, the USDA has a National Hunger Hotline. Just call 1-866-3-HUNGRY and you will be connected to help.
Lastly, there is always local help for you or anyone in need. Food banks and food pantries are common in cities, so check to see the closest ones to you! There are plenty of community groups, organizations, and religious centers that are willing to help.
Supplemental Nutrition Assistance Program (SNAP/Food Stamps)
The SNAP program is one of the best ways to get groceries for free. This is a federal program that gives you free help with groceries every month.
You can qualify for this program if there are at least two members in your household and make a net income of $1,452. There are different price allowances set in place depending on how many people are in your household. This website shows you the details on the maximum amount of financial assistance you can receive.
Now, this isn't exactly money straight to your bank account for groceries. SNAP benefits can only be used with certain kinds of foods.
With SNAP, you can get fruits, vegetables, meat, poultry, fish, bread, cereal, and dairy products. Here's a full list of things you can get with your SNAP program.
Simply put, the benefits will be electronically transferred to your EBT card monthly. From here you can shop at participating SNAP grocery stores and farmers' markets.
Covid-19 Food Assistance
This form of food assistance is a little more specific. After Covid-19 hit, many individuals and families needed financial help. Groceries are a huge part of that need.
This isn't necessarily a different program altogether but rather an addition to the SNAP program. If you're already a SNAP participant and you're still financially affected by the Covid-19 pandemic, you may be eligible.
You can also receive this benefit because of other aspects of your life affected by Covid-19. For example, if you have kids who can't eat because their school shut down, you are eligible for free food.
This also goes for any program that offers food that no longer meets in person because of Covid-19. There are a variety of programs under this umbrella, so do a little research and see what you can find!
Women, Infants, and Children Nutrition Program (WIC)
WIC agencies are scattered across the country. Their mission is to support women and children everywhere in every way that they can. Because of this, they also offer help with food.
This is similar to SNAP, but a little more specific. In order to be eligible for this program, you must be pregnant, breastfeeding, or within 6 months of having given birth. Or if you're applying for your children, they must be under 5 years old.
Free Meals
Many national and local programs offer free meals for those who need them. Many of these are for children specifically.
There are various school options, after-school programs, and childcare programs. 
Many schools offer meal programs for children who need them. These programs typically will offer free milk, breakfast before school, or a healthy meal before or after school. There are even programs that offer meals over the summer!
D-SNAP
D-SNAP stands for Disaster Supplemental Nutrition Assistance program. This program is for those who need help after a declared disaster specifically. 
You are eligible for D-SNAP in very specific situations. The president has to declare that there is a disaster in your area specifically. 
After this declaration, you have one week to apply for D-SNAP benefits. You should receive your benefits within three days of applying.
You can't apply for this program if you aren't in a declared disaster. You also can't use all of the D-SNAP and SNAP benefits at the same time. 
However, you can still apply to D-SNAP if you're using SNAP. You may get a few extra benefits from D-SNAP by doing so.
There's tons of help out there for you!
Figuring out finances for expenses like groceries can be challenging and stressful. Sometimes you need some help.
There is a way to get groceries for free! All it takes is knowing where to go and how to apply. 
There's no harm in applying to see if you're eligible. You never know how much help you could get.