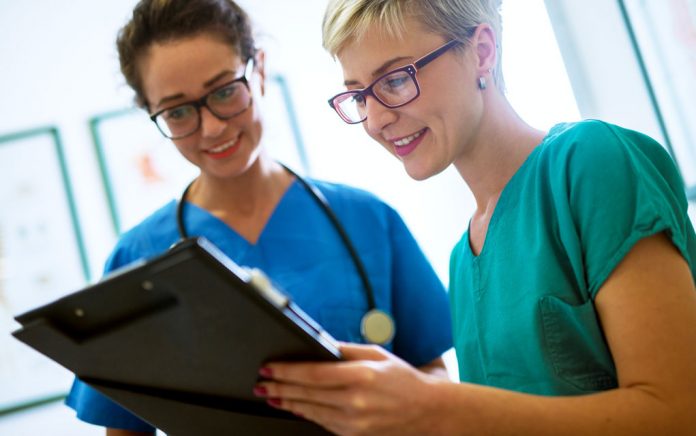 When you think of a career in medicine, you probably imagine the degrees that take years of your life before you ever get off the ground. First you have to attend college, then pull through internships, practicals, and exams to become certified. Then you may have the skills to succeed but a mountain of debt holding you back.
Quick Read:
Coming out of university with high debts can be crippling, but there are other options. All these medical careers require under four years of school, which can cut back your tuition costs and save you money. In some cases you may even be able to train from the comfort of home. Medical coding, nursing, medical transcription, home health aide or medical assistant careers are just some of the medical careers that can start with online learning. Read the full article below to find out more.
These Medical Careers Don't Require a Four Year Degree.
Medical Coding
Medical coders help offices, hospitals, and healthcare facilities ensure timely and accurate billing. They are directly responsible for filing services rendered under the correct code with the correct information, ensuring that insurance companies and organizations like Medicare approve claims.
Nearly every healthcare facility in the country works with medical coders at some point. Some hire in-house coders, while others work casually with freelance providers. If you choose this career, you'll have excellent access to work from nearly anywhere in the United States.
Training to become a medical coder is fast and easy — and completely available online. You'll learn how to identify the correct codes and use the most common code submission systems. You'll also learn to guarantee accuracy for patients, insurance companies, and healthcare facilities. Most programs take just one year or less to complete, including special exams and certifications.
Medical Transcriptionist
Medical transcriptionists play an important role in the healthcare industry. But they aren't responsible for numbers; instead, they work with words. Transcriptionists receive recordings from surgeons, doctors, nurses, and medical schools. Then they transcribe them to text for easier disbursement and recordkeeping.
High accuracy and typing speed is a must for medical transcriptionists. This is a great career choice for fast typers or people with high attention to detail.
You can train to become a medical transcriptionist from the comfort of home. Depending on which specialties you choose, you may be able to work at home, too. Most courses take just a few months to one year to complete, getting you out of school and into the workforce quickly.
Registered Nurse
If you've always wanted to become a nurse but aren't interested in taking out hefty loans or stopping work, this career is for you. You can study to become a Registered Nurse (RN) in university-accredited, fully-certified nursing programs at several schools throughout the country.
Basic Bachelor of Nursing (BSN) programs take anywhere from six to 22 months to complete. More advanced programs, like a Masters degree, may take longer. You can do early training from home, but you'll still have to complete practicals while working for your degree.
Schools offering online RN programs help students complete practicals and exams by pairing them with local clinics and hospitals. This way, students get the same education they would attending university with just as much credibility.
Medical Assistant
Prefer to work in the office with other medical professionals and patients? Medical assisting may be a better career choice. The medical assistant is the doctor or nurses' right hand. They're responsible for supporting other medical professionals and improving patient care.
Medical assistants don't help with surgeries or diagnose patients, but they do have a big role in patient care. Duties may include taking vitals, keeping an eye on patients for changes, or giving comfort and company to patients during treatment. They may even give patients certain pre-approved medications.
The medical assistant also acts as an administrative assistant when necessary. They may help with billing, filing, booking, telephone calls, or even managing electronic health records. This jack-of-all-trades position fills the gaps to improve service.
Demand for medical assistants is growing. Conservative estimates expect the career to grow by nearly 23 percent in upcoming years. Basic diplomas may take just two or three months to complete, although advanced degrees may take up to four years. Either way, this career is a stable entry into the healthcare environment.
Home Health Aide
With more baby boomers retiring and reaching seniorhood, the need for home health support is higher than ever. You can be a part of the solution by becoming a home health aide right from the comfort of home.
Home health aides provide personal care aide services, but work in the patient's home instead of in a healthcare facility. Their services let patients remain independent and save money on the cost of hospitalization when help is needed.
Usually, home health aides watch patient vitals, assist with daily hygiene needs, handle wound care, and provide medications and assistance with home treatments. They may also aid the patient with basic tasks, provide companionship, and discuss treatments with doctors.
You can start studying to become a home health aide from home and complete your program in as little as a semester or less. You'll need to receive some practical on-the-job training and take the necessary exams before you begin work. Most online schools provide link-up services to help you complete these requirements.
Despite what you might expect, building a career in the medical field doesn't have to take years of intense training. These careers can offer you a happy and successful future in medicine if you know where to start. Enjoy the learning experience. You, too, can receive an education in the field you love.