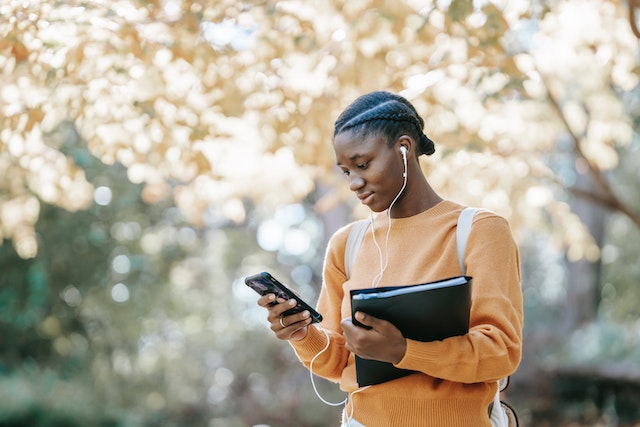 College is the first frontier for many young adults. It's probably the first time students have been on their own, which means it's their first time paying phone bills. Finding the best cell phone plan for this stage of life can be tough. 
When you're scrounging for the money to make payments in college, it's helpful to make each bill as small as possible. What are the best cell phone plans that won't leave you wincing at the bill?
Let's look at some unlimited cell phone plan options that will give you the most calls for your cash. These are the best cell phone plans for college students that include unlimited data because, well…TikTok.
Mint Mobile
Mint Mobile is an excellent option for a college student because of the low price of $30/month for an unlimited plan. It's also possible to add a specific phone to your plan for more, but still cheaper than other plans with a phone payment. The plan comes with a free hotspot for when you need to do homework in the forest. 
The interesting thing about Mint Mobile is their 3-month bulk payment system. This system may help if you know you have the money for your phone plan. That way, you don't have to worry about making payments each month. You can also pay for 6 months or even a year in bulk. 
Visible
Visible is owned by Verizon, which gives the advantage of having nationwide coverage- just for a lower price. Like Mint, Visible has a $30/month unlimited plan. This covers unlimited talk and text, as well as data usage. 
Tax and fees are included in the $30/month price. There are no hidden contracts or fees, according to Visible. They also offer free hotspots and free talk and text to Canada and Mexico. 
Boost Mobile
Boost Mobile is another phone plan that requires a SIM chip that may not always be available or compatible with every phone. The good thing about this option is 5G data for $25/month on their unlimited plan. 
According to the website, you save about $20 at the start because they don't charge you for the SIM kit and the shipping. A unique feature is the chance to earn credits on their app, which can save you money on their plan. Just make sure you have IOS 15 or higher for the SIM card to work.  
Tello 
This plan can give you the cheapest service of these options if you don't need an unlimited plan. The unlimited starts at $29/month and goes down depending on your more specific need. 
For example, you may know you can limit your data usage and stick to wifiwifi. You can grab the plan with 10GB of data and unlimited talk and text for $19/month. If you can limit even more data usage, your price goes down. It's a viable option for someone who doesn't need the complete package and wants to cut down on costs.
Google Fi
Google Fi offers a close resemblance to paying for what you use. The base charge for this plan is $20/month plus $10 for every GB of data you use. This means you could stick to wifi for some months and only pay $20. Then when you need to use more data, you know you can pay for it. 
Google Fi is something to consider for students who travel a lot internationally. It is the most accommodating mobile plan for international usage of all these options. This comes with their Unlimited Plus plan, which comes in at $65/month. 
Conclusion
These plans accommodate well to one line and for a low cost. Some have special perks, and some don't. At the end of the day, it's always good to save money. Take advantage of the time you're in to get student discounts. Look into these plans and see which one is best for you!
For more college survival tips, check out our article Intimidated by the Pell Grant? Here's How To Apply.