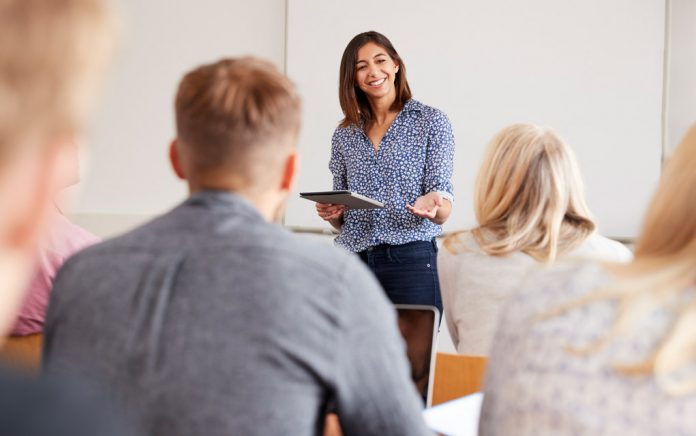 It's easy to get caught up in the college application process, nervous over meetings and phone calls with college admission representatives. It's also important to remember that, while college admissions reps may seem to have the upper hand, you have a right to ask as many questions as you need to determine if the school you are considering is the right fit. We'll help you do this further down in the article.
Quick Read:
You can get paid to discuss, study, or create fashion if you complete the right degree program. Rather than head to a local college, you can study online and complete in-demand degree programs like fashion design, marketing, business, and journalism from your home. Check below — we've got helpful details about how online degrees can help fashionistas like you succeed in fun, lucrative professions.
Learn About Your Next School With These Queries for College Admissions Reps
How do My Passions or Career Goals Align with Degree Opportunities?
Maybe you have a passion in life, but still have no idea how it will translate into a career path. Or, maybe you have a career path in mind, but aren't sure which major you need to pursue for the best opportunities. A college admissions representative can help you pair your goals with a solid educational program.
How Do Admissions Requirements Differ Between Majors?
Different programs have slightly different admission requirements, ranging from previous coursework to essay or even strict SAT score requirements. Your admissions representative should be able to help you assess the needs of each department to help you determine what gaps you need to fill or what programs you should rule out.
What Type of Academic Support Do You Offer?
This question is particularly important if you are planning in enrolling in an online degree program. While many schools have on-campus tutoring programs, writing centers, and professor office hours, students in online learning environments often feel lost. It doesn't have to be this way!
Find out if your online program offers online tutoring or whether they've partnered with a local college to provide face-to-face support to students who need it. Then, ask what type of advisor assistance or guidance programs are available to ensure you're choosing the correct classes to meet your graduation requirements.
What are the Actual Costs?
Many students focus on the cost-per-credit (CPC) for each semester, only to forget about additional fees for books and supplies. Students attending classes on campus have to consider transportation costs, meal plans, and housing. Students in online programs need to consider the cost of reliable technology and internet access. They may also need to consider the cost of housing, especially if they are going to school full time and plan to apply for financial aid to cover living expenses.
Your admissions rep also understands financing needs, and can help you match with the right opportunities. Ask them which scholarships and financial aid programs are available from the school to supplement federal loan programs.
What Job Placement Opportunities Do I Have?
Several colleges offer job placement programs for senior students and graduates, helping them locate internships and job opportunities. Some job centers even offer help with cover letters, resumes, portfolios, and mock interviews.
Ask your representative if your school has career fairs, or if there is an online job board available with potential leads. Find out what percentage of graduates find work within the first three to six months following graduation. The answer will say a lot about how the corporate world views the school.
It doesn't matter if you'll be sitting in a classroom or taking online courses — there's nothing easy about choosing a college. Online or offline, part-time or full, it's up to you to ask the right questions and make an informed decision. Make sure you put your college admissions rep to task and get all of the answers you want and need before making your final decision.