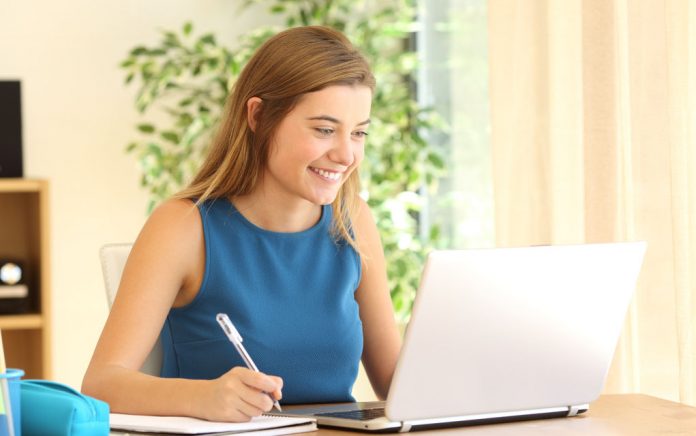 (HigherEducating.com) – If you've been thinking about going back to school or just completing your college degree after a few years in hiatus, now is the best time to get back in the game. Here are five reasons to get back into your groove and study online to achieve your higher education goals.
Gain Competitive Pricing
One of the best advantages of taking online courses is that it can be an affordable option compared to registering for campus classes, says careers24. If you're on a budget or you don't feel like investing a small fortune into your education, taking an online class or two just makes sense. Whether it's to gain credits or continue education sessions, most online curriculums can be cost competitive with large universities.
Work at a Faster Pace
When you engage in online studies, it gives you the option to complete everything on your own time schedule. Work ahead to maximize your free time later.
On the opposite spectrum, you may also have the option to work on your own schedule, taking extra time if needed. You still have access to the same support as going into a college class, only you do it all virtually.
Fits Into Your Busy Lifestyle
Work, family and fun, that's how you roll. Many people think that going back to school or expanding their education is out of reach because of family and lifestyle obligations. Online studying takes that concern away. Because of the flexibility of most courses, you can find the time to complete courses and become one step closer to completing your education.
Convenience Is a Major Factor
Going on vacation? Have an extra hour during the day at work? Studying online gives you the convenience factor, allowing you to get in your homework assignments and quizzes from just about anywhere. As long as you have access to the Internet and a quiet place to complete tasks, online learning is a great option for you.
Faster Completion Times
When you achieve a traditional degree or certificate, the syllabus and curriculum are set up to accommodate the professor and the school staff. When you sign up for virtual online courses, the scheduling and deadlines are pre-set and designed to be completed in a shorter time frame. This means you can achieve your career quicker and get closer to reaching your goals sooner.
If your dreams of completing your higher education have been on hold because of life, don't give up hope. Check out an online class or two in your desired field of study. Flexibility, affordability and convenience are all important factors and high points to consider. The world is your oyster, and now there are no excuses, so go for it!
Here's to Your Success!
Copyright 2020, HigherEducating.com