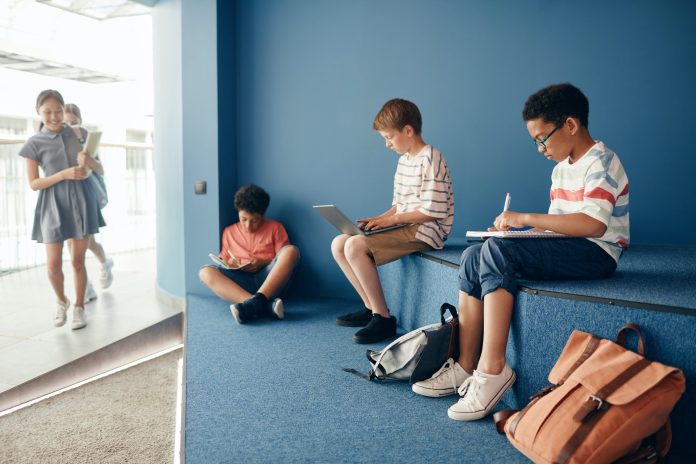 Technology is a great tool for students. Modern technology allows students to dive head-first into learning more efficiently and with far more resources. Laptops in classrooms are not solely used for software education anymore. 
Having a laptop as a classroom resource allows students to actively engage in their study topics through interactive and educational tools. Students also have access to an endless amount of information that they can use to deepen their learning or aid their lack of understanding. Research suggests that technology integration improves students' learning processes and outcomes. So what is the main thing stopping us from integrating this form of learning into our school systems?
Although laptop access has enhanced students' learning experiences, this can be an expensive tool to get your hands on. Laptops can cost up to a few thousand dollars each, which is a seemingly impossible price tag for students. 
Having a laptop in the classroom allows students to take responsibility for their learning and take pride in their personal pursuit of knowledge. In this system, schools give students opportunities that are more tailored to their learning needs and styles. This gives the teacher the position of becoming a guide and facilitator for their students while they learn and grow. 
You can access this revolutionary form of teaching without cost at select schools. Certain colleges and universities offer laptop loans, laptop scholarships or discounts, or even free laptops to their students. This opens up unlimited opportunities for students to learn, grow, and fulfill their responsibilities in school. 
Universities and colleges that offer their students laptops include…
Purdue University Global

Full Sail University

University of Phoenix

Moravian University

Saint Leo University

Amridge University

Independence University

Rochester University

Valley City State University

Duke University

Bethel University

Chatham University

Strayer University

Seton Hill University

Northwest Missouri State University

University of Minnesota-Crookston

Wake Forest University

Bowdoin College
If you do not attend a school that offers free laptops, here are some ways that you might be able to get your hands on one…
Scholarships
Certain financial aid packages include money reserved specifically for purchasing school supplies, which can include a laptop. Most scholarships or grants are reserved specifically for tuition prices. However, some schools offer money for books, laptops, and supplies. Some scholarships are dedicated specifically to laptops like Dell Scholars Program and Laptops 4 Learning. It could be worth it to look into if you are still looking for something to help with the prices of school supplies. 
Organizations
Another option for finding a free or discounted laptop is by applying for income-dependent scholarships through certain organizations. 
Some of these organizations include:
Alliance for Technology Refurbishing and Reuse

PCs for People

Notebooks for Students

Computer Technology Assistance Corps

Computers for Kids (only applicable for junior college students)

Computers with Causes

Community Computer Connections Program

Connect All

Everyone On

Virginia Star

Tech Exchange

With Causes

Tech for Troops

Kramden Institute

Discounted or refurbished computers from Amazon sellers, Craigslist, or Freecycle
If you are looking for resources to help save you money as a college student, laptop scholarships are a great way to do it. Even if your school does not offer free laptops or even scholarships towards supplies, there are a number of options available for you… it just takes some digging!
Now that you know how to get a laptop and schooling in one package, maybe check out this article.
Can't Focus? Here's How to Get Motivated For Online Classes