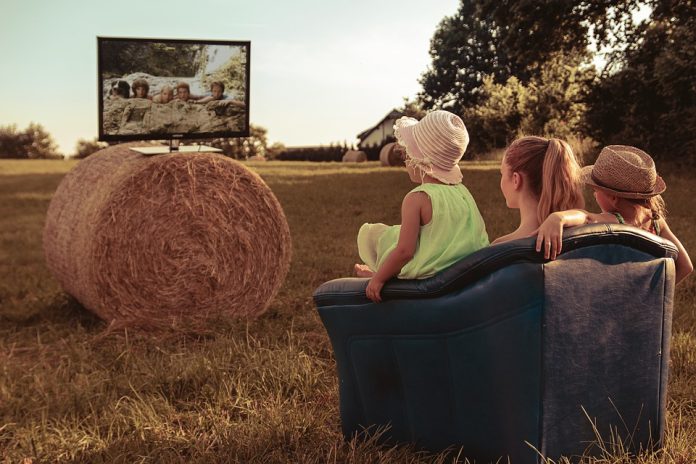 Here are a few Thanksgiving shows and movies to get your family to laugh, cry, think, or feel that Thanksgiving spirit.
For the kids:
A Charlie Brown Thanksgiving
This is a classic and plays every year. It's great for the whole family.
Garfield's Thanksgiving
Another classic with the cat that's fat and loves spaghetti.
Free Birds
This movie was made in 2013 and featured Owen Wilson and Woody Harrelson. It's a great comedy about two turkeys trying to prevent ending up like a Thanksgiving day turkey.
Addams Family Values
This 1993 comedy is about a unique set of parents with two children that are trying to get rid of their new baby infant they are not fans of. There is a botched Thanksgiving Play and lots of great laughs.
Miracle on 34th Street
Thanksgiving is the time to really prepare for the holiday season. Miracle on 34th street is a classic and features Macy's Thanksgiving Day parade. It's a great holiday movie made in 1994, which was a remake from the original 1947 movie, both fantastic.
The Blind Side
This could also be considered a family movie. Made in 2009 it's the story of Michael Oher, an offensive lineman who overcame his upbringing to play in the NFL. It is a feel-good family movie featuring a full-blown American thanksgiving which the main character had not experienced.
TV shows:
Seinfeld, made in 1992, had an amazing comedy and featured one Thanksgiving episode called The Mom and Pop Store. Season 6 | Episode 8 aired in 1994. The description of the episode is George buys a convertible he thinks was once owned by Jon Voight. Kramer tries to save a small shoe-repair business. Elaine answers a radio quiz, enabling Mr. Pitt to participate in the Macy's Thanksgiving Day Parade. Meanwhile, Jerry tries to solve the mystery of whether or not he's invited to Tim Whatley's annual Pre-Thanksgiving party.
Friends
Every season of Friends, the TV show made in the '90s, had a Thanksgiving episode, and each one is full of comedy. It's a feel-good comedy that celebrates friends enjoying their holidays together. Each of the nine episodes will make you laugh out loud.
How I Met Your Mother was the 2000's version of Friends. If this is your first time watching How I Met Your Mother, you will be quickly glued to your TV binging this show. There are many hilarious Thanksgiving episodes that will make you laugh, cry, and think about your own family.
The episodes include:
Season 1, Episode 9: "Belly Full of Turkey"
Season 3, Episode 9: "Slapsgiving"
Season 5, Episode 2: "Slapsgiving 2: Revenge of The Slap"
Season 6, Episode 10: "Blitzgiving"
Season 7, Episode 11: "The Rebound Girl"
Modern Family is some of the best comedy writing there was for a tv show. This is another comedy that if you haven't watched it yet you will become addicted. Their Thanksgiving episodes offer real but hilarious feelings about family during Thanksgiving.
Modern Family Thanksgiving episodes
1: Phil's Sexy, Sexy House
Season 7 | Episode 7
2: Three Turkeys
Season 6 | Episode 8
3: Punkin Chunkin
Season 3 | Episode 9
4: Winner Winner Turkey Dinner
Season 9 | Episode 7
5: Did the Chicken Cross the Road?
6: Thanksgiving Jamboree
Season 8 | Episode 7
7: The Last Thanksgiving
Season 11 | Episode 7
Movies for the adults in the room:
Planes, Trains, Automobiles features Steve Martin, John Candy, and many other top actors in a comedy about a man who has to travel back to his family during terrible thanksgiving traffic. Steve Martin is an uptight control freak, and John Candy's character acts like a slob. 
Tower Heist was made in 2011 and had the Oceans 11 feeling for a comedy. It features Ben Stiller, Eddie Murphy, Casey Affleck, Alan Alda, Mathew Broderick, and more. This movie will have you laughing and on edge as this group of people try to steal back their money.
Home for the Holidays is a 1995 comedy-drama with Jodie Foster. It's about a woman who loses her job and has other trials and tribulations heads home from Chicago to Baltimore for Thanksgiving. It features a great cast of actors and is a classic to watch.
Prisoners is a 2013 thriller. Two daughters go missing the night of Thanksgiving dinner. It features High Jackman, Jake Gyllenhaal, and other cast members. It will definitely keep you on your seat and close to your family as they search for the girls that went missing.
Grumpy Old Men is one of the best comedies for so many ages. It was made in 1993 as a romantic comedy and is about a lifelong feud between two neighbors since childhood. Their rivalry starts back up when a new neighbor moves in across the street.
The New World is a 2005 historical romantic drama film about the founding of the Jamestown, Virginia, settlement and inspired by the real historical figures Captain John Smith, Pocahontas of the Powhatan tribe, and Englishman John Rolfe. Essentially you are watching this historical take on the origins of Thanksgiving.
Rocky not only opened on Thanksgiving Day 1976, but the movie is set around Thanksgiving. Rocky is a classic and a great show to watch for the whole family.
What's Cooking is a 2000 comedy that takes place on Thanksgiving day. Four ethnically diverse families gather for the traditional meal. Each family has its own distinct way of cooking the traditional holiday meal and its own set of problems.